Business Phone Numbers
Make your business approachable with the correct Irish phone number! Choose from Freephone (1800), National (0818), or Geographic numbers (01, 02, 04), depending on what your customers require. All our numbers are virtual and no fixed location is required.
Notice: Due to the non-geographic number changes made by ComReg on 1 Jan 2022. We are advising businesses to switch from 1850, 1890 and 076 number ranges immediately, to avoid losing inbound communication.
"Moving all our telecommunications to in2tel back in 2020 was the best decision we ever made."
1800 Phone Numbers
You may get a lot more sales leads for your company by using 1800 numbers. Simply said, in a highly competitive environment, a potential customer is more inclined to make a free call than one that costs money.
When a call to an 1800 number is terminated, the charge is sent to the receiver rather than the caller.
Increase customer satisfaction
Some matters have to be solved over the phone and by providing free calls, you automatically have an advantage over businesses that don't.
Increase advert performance
Increase the conversion rates of your adverts by providing a recognisable number that has no cost to call.
Setup within minutes
Quick and easy to setup you'll have complete visibility of all numbers through a management interface
0818 Phone Numbers
Don't limit your business to your location. Increase the area you operate out of, with a National phone number.
0818 numbers are used throughout Ireland. They're low-cost for customers and are charged at the local rate.
Ideal for information and service calls
Create a nationwide presence for your services. Pass on valuable information to customers without incurring high-volume costs.
Northern Ireland and UK landline delivery
Allow customers from Northern Ireland and UK to call your business's number.
No additional charges for your calls
When delivered via a landline, you won't have any additional charges for received calls.
Irish Geographic Numbers 01, 02, 04
Geographic Irish phone numbers use fixed dialling codes for the region they represent. When calling a number within your area, there is no need to use the dialling code.
Ireland's geographic dialling codes:
Create local presence
If you're targeting sales in a specific region, a geographic number is a great way to create a local presence.
Simple calling
When calling a number within your area, there is no need to dial the dialling code.
Setup within minutes
Quick and easy to setup you'll have complete visibility of all numbers through a management interface
Low-cost phone number plans
Whether you're a small business or a large enterprise, we can provide virtual phone numbers suited for your needs. With no hidden fees, it's flexible and cost-effective.
Instant call routing
Change your targeted phone number instantly. Divert calls to newly chosen numbers to best suit your customers.
Live statistics
Handle changes to plans and view live statistics without even being in the office.
Voicemail
Make sure every phone call can be heard, even when you cannot answer.
Portal management
Manage your virtual numbers, their features, and their usage all from an online portal.
Disaster recovery
Be alerted to traffic or spend levels above your normal expected volume and cap the spend.
Fraud protection
Apply spending caps to your monthly bills and block unnecessary call locations.
Why choose the in2tel network?
Benefit from carrier-grade quality calls, a multi-cloud infrastructure that allows a 99.999% uptime SLA, and encryption options for signalling (TLS) and media (SRTP/ZRTP).
"They offered really good advice on how to save money on our line rental, which we were very happy to avail of."
"in2tel's support team are always available for troubleshooting and usually resolves issues on the first call."
We'll manage the whole process
Moving to the in2tel network is easy. We'll manage the whole process dealing with old suppliers and making sure everything runs smoothly.
Keep your existing business numbers
If you would like to keep your existing numbers we can port these over.
Business as usual
Customers and suppliers won't notice the switch.
Easy for staff to learn
Our systems are designed for ease of use, staff will quickly be able to learn the in2tel technologies.
Add additional voice services as and when you need them.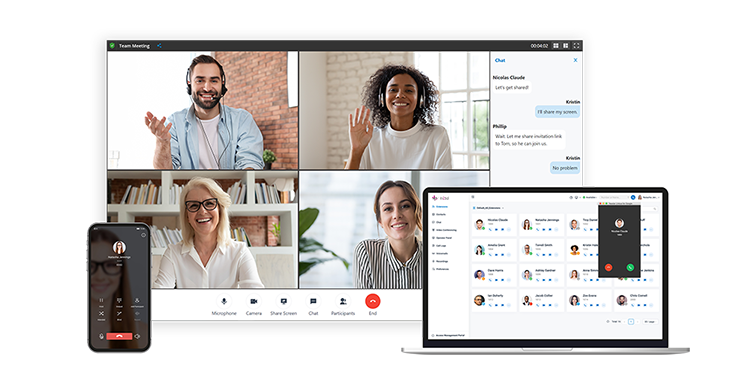 Cloud phone system
Packed with call features, in2pbx connects everyone within the office, on the road, or working from home.
Messaging services
Reach out to customers by SMS or push notifications for sales, customer service, and security.
Let's get in touch!
If you'd like us to review your current phone bill. Please send it as an attachment to sales@in2tel.ie. We'll have one of our experts give you an honest answer and if we can save you money.